Problem solving client screen trail
It's the little things that matter and, at times, cause the most frustration so we're making it easier to edit client information and the name of scenarios in Moneyscope.
Editing client information
To start with, it's going to be easier to edit client information once you've added it. When adding a new client you will be directed to the screen below. It's here that you can add a client's name and age as well as start to build a cash flow forecast for your client.
And say, for instance, that at some point in the future you want to edit the client's name or age, click on the client's name at the top of the scenario and you'll be directed to the edit client screen where you can change this information. This will then be applied to all the scenarios you've built for that client.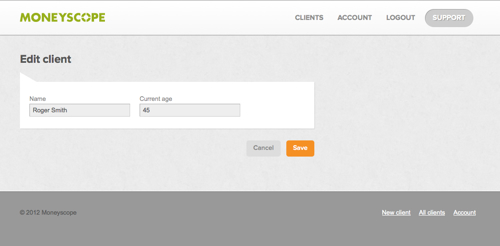 Editing scenario names
You will also be able to change the name of a scenario. Simply go through to the scenario you want to change and alter the scenario name in the field. This will update that specific scenario.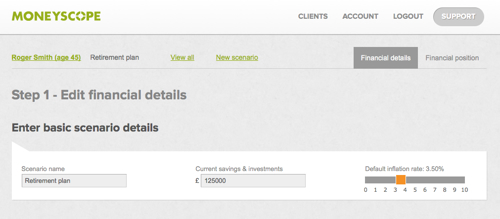 This small change will be made at the same time as the other changes in this blog post.